Take Your Training To The Next Level With Muay Thai Training in Marlborough
Muay Thai is a striking art that utilizes attacks from the fists, elbows, knees, feet using a variety of punches and kicks. Strikes can be thrown from long, mid or close range.
At Certain Victory Martial Arts, we pride ourselves on offering the best technical instruction in a safe and organized class.
Muay Thai is a great way to improve physical conditioning while learning practical skills and moves to also keep you out of harms way.
We guarantee you will have a blast in each class, while also gaining valuable skills and lessons.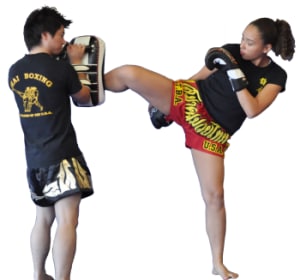 Muay Thai in Marlborough is Perfect for Fitness, Self-Defense, or Sport!
It doesn't matter if you have never stepped foot on a mat before or if you are already a professional fighter; at Certain Victory Martial Arts, we offer something great for everyone! On top of it all, you will experience tons of added benefits from our classes. Just see for yourself:
A tight-knit community of like-minded individuals
Ongoing support and coaching
Weight loss
Improved discipline
And so much more!
Benefits of Muay Thai
Because Muay Thai focuses on a total-body approach to self-defense and fitness, you'll reap a variety of benefits from this training style.

The benefits that accompany learning Muay Thai are numerous, all ranging from gains in:

Strength
Mental health
Emotional health
Self Confidence
In this high-energy environment, students and instructors work together to get in great shape and prepare for real-world scenarios.
Sign Up Today!
If you are interested in learning more about Muay Thai in Marlborough, please fill out the short form on this page. We will be in touch with soon, and can't wait to start working with you!